Which EHR to Choose: Advancedmd or Carelogic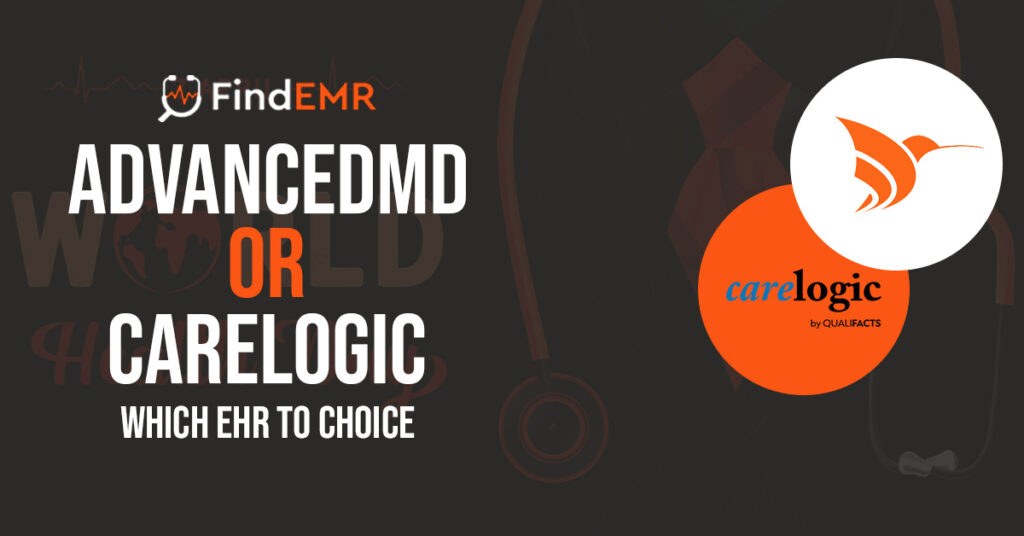 There are a variety of aspects to take into consideration when selecting the best electronic health record for the practice you run. This article will assist you to determine the most popular choices, AdvancedMD and Carelogic, to help you make an informed choice.
AdvancedMD is a cloud-based EHR and Practice Management System (PMS) which has been used since 1999. It is well-known for its flexibility and features that are robust.
Carelogic's EHR system was designed to streamline the way that doctors work with their patients and health information. It provides a more efficient interface, making it easier to navigate patient records and retrieve information swiftly.
AdvancedMD provides a range of additional features for various needs including scheduling, billing emails, lab integration, billing and more.
What exactly is AdvancedMD and what are its features?
AdvancedMD Medical Billing is a cloud-based practice management software and medical billing program specifically designed for private practices and billing services. The program includes features like:
Analytical and Reporting assists in the measurement of success and the maximization of revenue. It provides users with the tools required for better understanding their financial performance.
The Medical Coding option includes an electronic coding system, which includes digital search tools that make it simple, quick and secure.
Medical Scheduling option allows users to alter the pace of their front desk with enhanced appointments. Additionally, it includes insurance eligibility confirmation, appointment reminders and a schedule snapshot.
Payment Processing This feature is useful for the collection and posting of credit card transactions.
AdvancedMD Medical Billing is medical billing software that was launched in 1999. The company's headquarters are situated in South Jordan, Utah, United States. The company employs a staff that can reach 1000 employees.
Who is using AdvancedMD?
The most frequent customers are the following sizes of businesses: medium, small and large size companies.
Is it easy to use?
Absolutely, AdvancedMD EHR makes it fairly user-friendly. The product is user-friendly and easy to use.
Is AdvancedMD cloud-based?
Yes, they provide cloud-based hosting. This means that IT resources are available by using web-based applications and tools and you do not need to purchase servers and other hardware.
Can it be used on mobile devices?
Yes, you can connect to AdvancedMD on your smartphone or mobile phone.
What are AdvancedMD's Pros?
AdvancedMD Medical is highly customizable
The software provides an ideal reporting system.
Users have praise for the efficiency of the support center for software and help
What are AdvancedMD's Cons?
Users suggest improvements to the EHR prescriptions report
AdvancedMD's Pricing
AdvancedMD is cheaper than the industry standard.
AdvancedMD provides an EMR software for medical practices at $429 per provider per month. In addition, for EMR the price begins at $729 per provider per month.
If you compare AdvancedMD against their rivals on a scale of 1-10 (10 is most costly to set up), AdvancedMD is rated as 4.
What exactly is CareLogic and its capabilities?
CareLogic can be described as an online health records software which offers integrated financial, clinical, and administrative management for behavioral health providers. The program includes SaaS deployment and all enhancements are automatically deployed without extra cost.
Qualifacts, which is the parent company of CareLogic, was established back in the year 200. It is located at Nashville, TN and has been able to serve more than 20,000 health professionals in the field of behavioral medicine to date.
Who is using CareLogic?
CareLogic is ideal for doctors as well as hospital administrators and medical professionals, and health systems operating in the area of behavioral health. Oakland Family Services, Sound Community Services and DuPage County Health Department are among the customers of CareLogic.
Are you able to use it easily?
Sure, CareLogic makes it fairly user-friendly. The product is user-friendly and easy to use.
Are CareLogic's cloud-based services available?
The software is not cloud-based, so you'll need for it to be installed locally, and connect directly to the server.
Can it be used on a mobile device?
There is no such thing as currently CareLogic cannot be accessed via mobile devices. You'll need to connect it via your computer.
What are their primary attributes and features?
CareLogic includes the ability to coordinate data for clients claims, batching transparency for agencies, maximum reimbursement, a user dashboard front desk automated check-in, ePrescribing alerts to clinicians and claim batching resources utilization, as well as real-time reporting capabilities. Other noteworthy aspects that are included in this EHR solution include errors in claims correction as well as service capture.
What are CareLogic's Pros?
CareLogic provides Software as a Service deployment option, which doesn't require additional hardware
CareLogic is user-friendly, ONC – ATCB certified and easy to master for users.
The support for customers of this software for electronic health records provides email, phone, and live chat assistance
What are CareLogic's Cons?
CareLogic does not provide the option of on-premise deployment, which may be problematic for some users.
CareLogic does not offer a mobile-specific application for Android device owners.
The support for customers of the electronic health records service isn't available 24x7x365 assistance for users
CareLogic's Pricing
The cost of CareLogic exceeds industry standard.
In comparing CareLogic to its competitors using a scale of 1-10 (10 being the highest costly for implementation), CareLogic is rated as a 10. They provide a few options for their customers to choose from.
Conclusion
Advancedmd as well as Carelogic Two medical businesses that provide similar services. Both offer a medical care service to patients, however they provide different kinds of services.
Advancedmd provides a wide array of products and medical services and Carelogic only provides one kind of service. Advancedmd has been in operation for more than 20 years in contrast, Carelogic is only in operation for 3 years. Advancedmd is more costly than Carelogic, however it provides more benefits to the client.