EpicCare VS eClinicalWorks- Find an EMR for your practice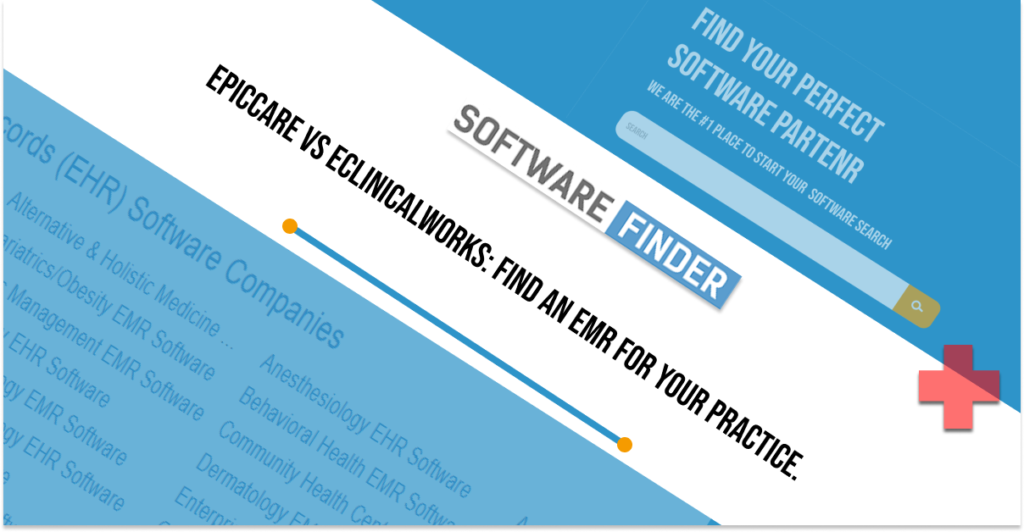 Remember that comparing vendors incorrectly will result in nothing more than a time-wasting exercise. In this article, we have compared EpicCare and eClinicalWorks, two of the most popular EMR systems in the world, in great detail. 
EpicCare VS eClinicalWorks-an overview:
EpicCare EMR, intended for sizeable ambulatory healthcare institutions, has a number of modules covering numerous specialties and ancillaries, including infertility, oncology, orthopedics, radiology, rehab, urgent care, dental care, and more. Community hospitals, pediatric groups, independent practices, academic medical facilities, and other organizations use EpicCare EMR. Furthermore, Epic presently provides electronic records for over a quarter million patients.
eClinicalWorks EMR is to develop a comprehensive platform that serves as a one-stop shop for all doctors. This software unites the revenue cycle, practice management, and EHR components to guarantee that all duties are managed effectively. Additionally, it eliminates the possibility of errors by centralizing the complete database in one place, and clinicians can review it without difficulty or delay. As a result, the distinctive features of eClinicalWorks are well-equipped to provide extensive client satisfaction.
Benefits of adopting EMR? EpicCare VS EClinicalWorks:
Large hospitals and healthcare systems can use the Meaningful Use Stages 1 and 2 certified Epic Systems' EpicCare electronic medical record (EMR) solution. A team within the company creates, implements, and supports EpicCare. Dashboards that aggregate and display financial and clinical indicators, as well as templates that can be customized, are included in the modules. As part of the requirements for Meaningful Use Stage 2, EpicCare also offers a patient portal and e-prescribing functionalities. The technology also has mobile and tablet capability and supports telemedicine alternatives, allowing doctors to contact patients over video platforms. Patients can use a personalized portal provided by EpicCare MyChart to see medical data, communicate with doctors, set up appointments, and maintain medical history. Utilizing customized displays, dashboards, and specialty applications, clinics can use EpicCare to streamline workflows. The application's finance portion enables clinics to track payments, bills, and invoices. EpicCare is a mobile-ready solution that allows access to data on your Apple devices for both doctors and patients.
The elaborate Mechanism of the Software:
eClinicalWorks is a practice management and electronic health record (EHR) system. Clinicians can access tools like patient involvement, Telehealth, personalized messaging campaigns, population health data, and configurable reminders. EClinicalWorks software offers customizable documentation choices, trend analysis, and structured data capture for various medical specialties. All parts of the patient record are accessible to clinicians through the Patient Hub. As with eClinicalWorks Version 11, physicians have access to Eva, a virtual assistant who may aid with reviewing patient records, including details from the Progress Note tool and data flowsheets. A self-service patient portal, the Healow app, Messenger, online appointment scheduling, and other features are also included in V11. Clinical staff may stay updated on patient vital signs, activity, and progress using the eClinicalWorks Healow app, which tracks patient-recorded data from home monitoring devices that patients can wear or use. A web browser, smartphone, or iPad can be used to access eClinicalWorks on a PC or a Mac.
EMR Pricing comparison EpicCare VS EClinicalWorks:
There is no pricing information for EpicCare EMR available online. Pricing for Epic EMR plans ranges from $200 to $500 per provider or about $1200 annually. eClinicalWorks Pricing is also offered for $599/month with additional capabilities. Therefore, the initial monthly cost for this EMR is $449.00. Unfortunately, neither solution provides a free trial or version.
User review- EpicCare VS EClinicalWorks:
EpicCare
Pros:
Epic's capacity to offer its customers a wide range of features in healthcare settings makes it incredibly flexible. Setting up patient orders has never been simpler, thanks to its recent upgrades. There isn't anything that Epic can't handle, from medication reconciliation to appointment scheduling to its arrangement of encounters and medical history.
Because so much information is shared between hospital systems and clinicians, it is helpful because it facilitates and improves the accuracy of consistent treatment.
The EpicCare EMR is simple to search through and offers a wide range of utility and view customization choices. It also remembers your most recent orders, making it quick to place new ones.
Cons:
When it comes to simple chores that may be made more accessible by inserting a button or checkbox in specific areas, customer support/service is not very sensitive to user-friendly adjustments. When a service needs to be conducted during business hours, as has happened a few times, downtime might also be problematic.
Too many tabs, drop-down menus, and restrictions on what can be documented. These features frequently freeze, crash, or cause errors.
Even though the EpicCare EMR may be searched, finding what you need might occasionally be challenging.
EpicCare:
Pros:
The search patient tool warns you if two patients have identical or similar names. It would be simple to click on the incorrect patient accidentally. Finding a specific document, you're looking for is simple, thanks to the sensible organization of all the chart papers. Additionally, the date of the most recent visit and the date of the subsequent visit is displayed as soon as you select the patient. Additionally, printing is easy to set up and runs well.
It was simple to navigate the program. Ordering and e-prescribing drugs are relatively simple. Although there is a slight learning curve, using the application is simple once you get the feel of it.
The capability of eligibility verification without visiting another program. The patient charts make it simple to filter through the claims.
Cons:
Because the progress notes are semi-prepopulated, the information you did not mean to include may be up there.
There were many gaps in the health care maintenance checks, which were deficient. When selecting a place, E-prescribing could be challenging.
Anyone that calls you if you need to submit a ticket is usually from India and difficult to comprehend. EBO reports are challenging to understand.
Limitations- EpicCare Vs. EClinicalWorks:
The following are a few of EpicCare's drawbacks:
Navigation is challenging when seeing laboratories and photos.
limited capacity for printing, exporting and manipulating data
Complex features lead to a challenging user experience
Generally subpar customer and technical support services
eClinicalWorks Limitations
A few of the product restrictions are as follows:
The integrated practice management module has an additional cost.
A minimum 5-year commitment is necessary
does not promptly update certain aspects, such as the patient portal
lacks a native application for handling payments.
It doesn't have e-fax capabilities (partnership with Dialogic)
Which EMR to go with? EpicCare VS eClinicalWorks:
All physicians can significantly benefit from the assistance of this thorough eClinicalWorks vs. Epic comparison chart when making a choice.
Based on some of the essential medical features, eClinicalWorks vs. Epic. eClinicalWorks offers appointment management, charting, e-prescribing, E/M coding, handwriting recognition, HIPAA compliance, a patient portal, and voice recognition. Patient portals, voice recognition, and appointment management are all features of the EpicCare EMR. The cost of EpicCare EMR is higher than that of eClinicalWorks. eClinicalWorks is appropriate for doctor's offices, ACOs, hospital outpatient clinics, and health facilities of all sizes and forms. Large businesses are among the target clients for EpicCare EMR.
Also, have a look at: What can be done to fix EHRs?