Sargent Major David Spc DeWeese – Young Marine of the Year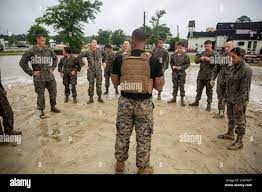 Sargent Major David Spc DeWeeses service in the military was well documented. The veteran served in the Gulf War and Operation Iraqi Freedom. He received numerous awards and retired as a Command Sergeant Major. In his free time, he loved to fish and play baseball. His favorite team was the New York Yankees.
Blake DeWeese
As a high school junior, Blake DeWeese, Sargent-Major David Spc, of Beaverton, Oregon, has achieved national recognition by being named the 2016 Division 6 Young Marine of the Year. This honor has allowed DeWeese to join nine other Division 6 students on the 19th annual Reunion of Honor Trip to Iwo Jima, Japan. He and his fellow Marines met with descendants of the men who died on the island.
Roy DeWeese
SPC DeWeese, who served with the 1st Infantry Division, died in Iraq on July 5, 2003. He was only the second U.S. soldier to die in combat there. His service earned him several medals, including the Legion of Merit. He loved sports and was an avid New York Yankees fan. He is survived by his sons Mark and Jamie in Nashville, Tennessee.
Born in West Virginia, Spc Deweese enlisted in the United States Army after graduating from high school. He served during the Persian Gulf War and Operation Iraqi Freedom. He received several awards and was assigned to a unit that was training Iraqi police. While in the army, he loved fishing and watching the New York Yankees.
In addition to serving in the Middle East, Spc Dewese also enjoyed the outdoors and spending time with his family. He loved to fish, play baseball, and even work in his yard. His death was tragic as he was killed by a roadside bomb in Iraq while he and his fellow Marines were training Iraqi police. His death has only compounded the humanitarian crisis that continues in the country.
DeWeese was born and raised in West Virginia. He graduated from Poca High School in 1984. He served in the United States Army for over four decades and received several awards and honors during his service. His military service earned him the titles of Most Valuable Serviceman and Best Noncommissioned Officer during the War. His family will cherish the memories he made during his military service.
Deweese was a Marine for more than three years. He received the Purple Heart and Navy Commendment Medal with Combat "V" award and spent one year in Iraq as a Humvee driver. He was a big Yankees fan and loved fishing. He was killed along with five other Marines in Iraq.